Doctors on Duty is a Trusted Santa Cruz, CA, Occupational Medicine Provider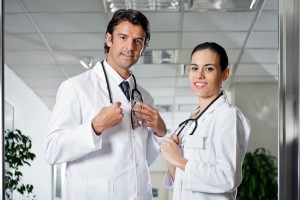 At Doctors on Duty, we understand that occupational medicine is the key to a healthy and productive workforce – and that's why our Santa Cruz, CA, walk-in clinic offers a comprehensive range of corporate health care services. We're dedicated to working closely with both employees and their employers so that the entire experience is streamlined for all parties involved.
We're proud to provide a number of essential occupational medicine services, including:
Urgent care for on-the-job injuries, such as sprains, strains, falls, and minor lacerations
Occupational physicals, such as post-offer physicals and return-to-work examinations
Department of Transportation (DOT) exams
Drug and alcohol testing services
Medical monitoring and surveillance services, such as pulmonary function tests, periodic HAZMAT tests, and environmental exposure monitoring
Physical therapy and rehabilitation services
We also offer injury prevention and wellness programs to equip employees with the knowledge they need to take a more proactive role in their occupational health. These programs can often be conducted on-site at various workplaces throughout Santa Cruz.
What's more, employers are often pleased to discover that we offer our occupational medicine services at extremely competitive rates. When employees are sent to us rather than a local emergency room, the total cost of care is often one-third to one-fifth the total price of what it would otherwise be for comparable services. Additionally, our billing staff is highly experienced with the workers' compensation claims process and can ensure all insurance claims are filed promptly and correctly.
For more information about our occupational medicine services, or to schedule an appointment on behalf of an employee, contact the Santa Cruz, California, Doctors on Duty clinic today.