Are you a new patient and want to save time at check-in? Please review and complete the following forms.
Doctors on Duty Printable Intake Forms
If you have never visited any of our Doctors on Duty Medical Clinics please complete the new patient Intake Form and the new patient Information Form and bring them with you on your fist visit. Your answers on these health intake forms will help your Doctors on Duty provider better understand your medical concerns and conditions.
In compliance with the Health Insurance Portability and Accountability Act of 1996 (HIPAA), this Notice of Privacy Practices (NPP) form describes how your medical information may be used and disclosed and how you may gain access to this information. By signing the last page of this document, you are acknowledging that you have reviewed our NPP.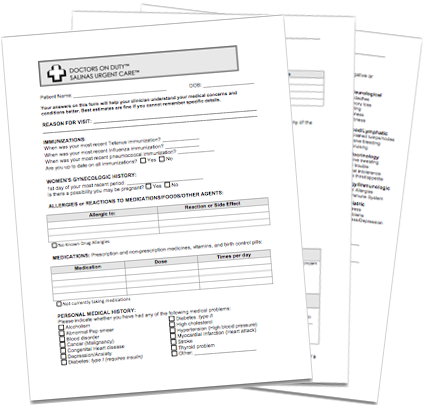 These forms can be viewed using Adobe Acrobat Reader. If you do not have Adobe Acrobat Reader, you can download it for free from
Adobe's website
.